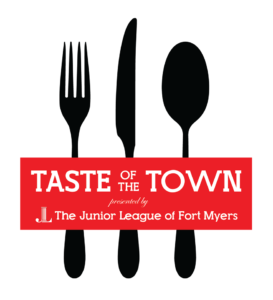 October 20, 2019 — The Junior League of Fort Myers is deeply saddened to announce that we will NOT be holding our Taste of the Town fundraiser this year in November .  
There are a few reasons for this decision.  Some organizational changes have led to a shift in our ability to successfully execute this large all volunteer-led fundraising event. We also recognize that the changing face of events like this in our community has impacted the "uniqueness" of our event, and as a fundraiser, we must pay attention to ensuring we provide a financially positive environment for our patrons, restaurants, vendors, sponsors and our organization.  It was not an easy decision for our League. While we cannot have the event this year, we hope it might resurface in some capacity in the future.

Over the past 37 years, the Junior League of Fort Myers has enjoyed hosting this family friendly event that has brought a fun event to the community, while providing the Junior League with a fundraiser that made it possible for us to support our mission of promoting voluntarism, developing the potential of woman and improving our community through the effective leadership of trained volunteers.  We want to thank you for supporting the Junior League of Fort Myers! We have enjoyed having you at our event and the part your attendance contributed to making Taste of the Town a great experience!   We are also incredibly grateful to EVERYONE who has ever volunteered for our event — we couldn't have done it without our members and volunteers.  Thank you to all our past restaurants and sponsors – we have enjoyed working with you so much!
Our mission to be volunteers who improve our community is still intact!  We are committed to service in SWFL and are considering future fundraising opportunities.  We look forward to your continued support and hope to see you at a future event!