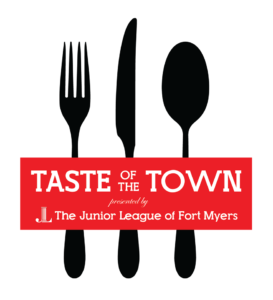 Taste of the Town is our annual fundraiser held the first Sunday of November each year. This year we return to the Alliance for the Arts on November 4th for our 36th day full of family fun, good local food, and awesome live music all to raise money to give back to our community through various projects. Check out more photos here.
VIP Tickets are available. For more information or to purchase your tickets, click here
ALL DOLLARS RAISED GO BACK INTO OUR COMMUNITY
This annual event raises funds for the community services program of the Junior League of Fort Myers.  From our work with at-risk youth to our mini-grants programs and our work to combat childhood obesity, we work hard to serve our community, and your attendance at Taste matters!
TASTE OF THE TOWN BRINGS OUR COMMUNITY TOGETHER
Whether it's your first time at Taste, or whether you're a seasoned guest, join with your family and friends, to enjoy a day of food, fun and music in the sun!
WE SUPPORT LOCAL BUSINESSES
Each year we have a great selection of local restaurants participate by offering small "tastes" of their menu. You might just find your new favorite! If you are a restaurant interested in participating in the 2018 Taste of the Town please visit our full Taste of the Town Website at more details: www.jlfmtaste.com